LLC "УК ТРК" expresses its appreciations and gratitude to LLC "Oasis Group Distribution" company for effective co-operation and conscientious approach to their business.
The team have proved the best in their work in a short time. Having shown themselves as excellent specialists in distribution of consumer goods.
We are positive in keeping current working relationships and hope for mutually beneficial cooperation in the future.
We wish the development and thriving for your business!
Read more
Zhanadilova Zarina
The head of commercial department.
LLC "Фармаком Импэкс"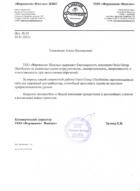 LLC "Фармаком Импэкс" expresses the gratitude to Oasis Group Distribution for beneficial cooperation, immediacy, efficiency and responsibility in executing the tasks.
During the period of joint work Oasis Group Distribution have shown themselves as a reliable distributor who is able to accomplish the tasks on a high and professional level.
We sincerely wish you and your team thriving and further success in the accomplishment of the new projects.
Read more
Ertner E.B.
Commercial director