OASIS GROUP DISTRIBUTION
OASIS Group Distribution company is one of the most successful companies in distribution of consumer goods. More than 25 years of successful work on the Kazakhstan market. Oasis Group Distribution is open to everything new and because of that we enlarge the assortment of consumer goods and develop new directions such as medical goods.
OASIS Group Distribution company represents in Kazakhstan the number of renowned manufacturers who have found a worthy and reliable partner in us. Represented assortment of goods is of more than 1000 names.
PROCEED TO CATALOGUE
Brunches of the company are located
in nine cities in Kazakhstan: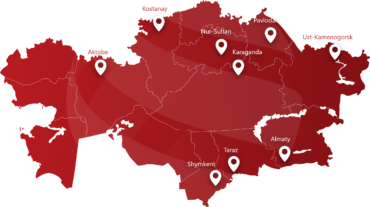 OASIS Group Distribution has equipped warehouse complexes with a total area of over 10,000 sq.m. for the sale of goods.
Our warehouses are of well-equipped conditions to store the goods of any kind.
OASIS Group Distribution has its own car park for a quick and comfort delivery of goods to the clients. It has more than 50 units of a freight transportation.
OASIS Group Distribution, having adhered to the proven long-term practice, the strategy of the honest and dynamic business, our company has achieved high results and has established long-term and trusting relationships with all its partners.
REVIEWS
Social accountability
Oasis Group Distribution cares not only for its staff, offering them the most comfortable working conditions, and not only cares about its clients, offering them the quality products, and not only about the partners, offering them the most optimal and individual conditions of the cooperation, but also tries to make its impact into a social life.
For more than 26 years of work on the market of Kazakhstan we have had 6 international tournaments Seni Cup in Kazakhstan for people with physical and psychological limitations.
We have also organized a charity project Altyn Zhurek that helps orphanages, centers of special social services, boarding schools, centers for victims of domestic violence etc.
Our mission
We provide the market of Kazakhstan with affordable and quality consumer goods.
We help to accomplish your goals being an important part of your business and everyday life.
Our vision
We are a dynamic and reliable distributor of consumer goods in all regions of Kazakhstan.
Team spirit, professionalism and a transparency help us to be dynamic.
Our values
Professionalism
The company and its staff work reliably, in a quality manner and effectively
Quality
Quality is a guarantee of our success and a success of our clients
Flexibility
We adjust to any change of the market and to a client need
Mobility
Solve and act fast
Team spirit
We act as one and we are proud of the mutual successes
Persistence
We can withstand the pressure of competitors and market demands
Openness
To shareholders, employees, partners and clients
Objectivity
Every one is evaluated according to their impact into team success
Realistic
We evaluate the environment and ourselves, guided not by emotions but by objective facts.
Main goal of the company
We aim to constantly enlarge the offer of the consumer goods taking into account the needs of the consumers and being a stable trading network that meets the requirements of consumers and suppliers, covering the entire territory of Kazakhstan.